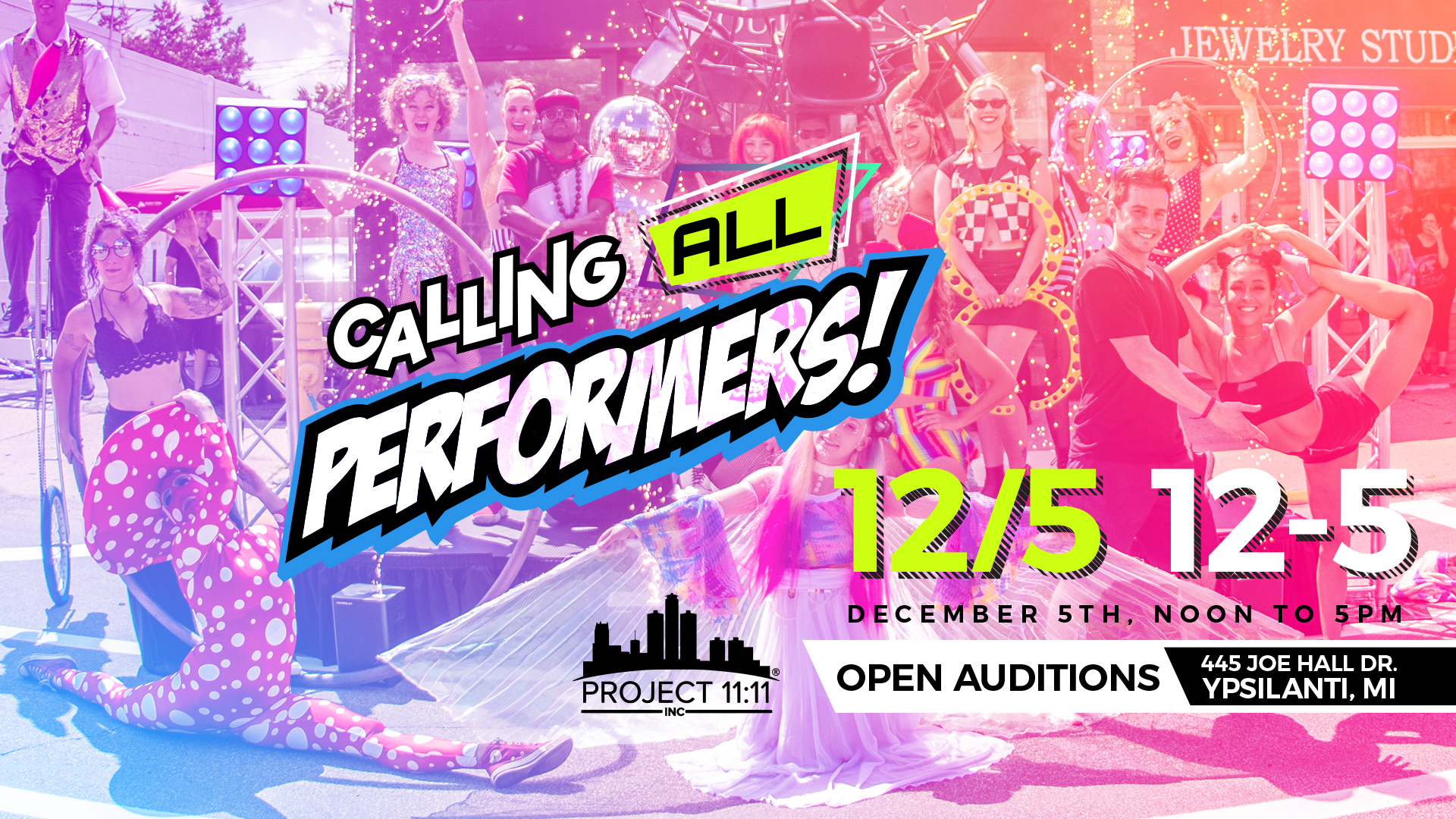 IT'S ALMOST SHOW TIME
---
Open auditions for a variety of performers and entertainers will be held December 5th from noon to 5pm at Project 11:11's headquarters located at 445 Joe Hall Drive, Ypsilanti, MI 48197. Call us at 734.977.1111 with any further questions or concerns.
Performances will take place on a stage and before a panel of Project 11:11 representatives. Applicant performers are expected to present themselves with attire and equipment relevant to their performances. Performers are also encouraged to bring a headshot or an "action shot" photograph, if possible.
Project 11:11 seeks to recruit a diverse collection of performers which includes (but is not limited to) the following:
Jugglers
Contact Jugglers
POI Artists
Baton Twirlers
Hula Hoopers
Unicyclists
Stilt Walkers
BBOYS/BGIRLS
Hip Hop Dancers
Dance Crews
Belly Dancers
Exotic Dancers
Burlesque Dancers
Go Go Dancers
Fire Performers
Sideshow Acts
Variety Acts
EmCees
Disc Jockeys
Musicians
Bands
Magicians
Comedians
Ventriloquists
Hypnotists
Impressionists
Celeb. Impersonators
Clowns
Living Statues
Mimes
Costumed Characters
Face Painters
Henna Tattoo Artists
Balloon Artists
Plate Spinners
Fortune Tellers
Palm Readers
Actors
Animal Acts
Flair Bartenders
Hibachi Chefs
Miscellaneous
Will you be in attendance?
---
---
Excellent. Please provide your name and email address in the fields below. We'll gather more information from you when big day arrives. We can't wait to see what you have in store for us.